K & J Concrete Polishing, Inc. specializes in the restoration and refinishing of many different types of concrete floors. These floors range from new construction to existing floors that prior to the grinding and polishing system may not have been saved without a type of complete resurfacing.

Whether it is a commercial, residential, or municipal application, K & J Concrete Polishing, Inc. offers many innovative design choices. Our design center can help navigate different types of polishing, dyes, bands, and logo applications.

Our grinding system is ecological, economical, and very functional. With our innovating grinding and polishing system, we use both metal bond, and resin bond diamonds to bring out the very best in natural beauty in your otherwise dull and weathered concrete floors.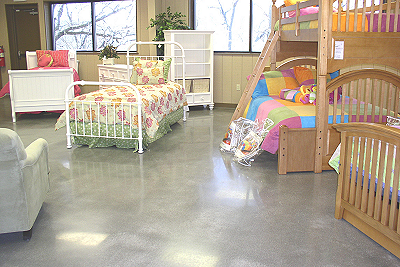 Revolutionary
Finishing Systems
for Concrete
Floors
Mission Statement
K & J Concrete Polishing, Inc. is dedicated to providing the highest quality of concrete grinding and polishing in the industry. It is our mission and purpose to achieve this through staying on top of the newest developments in technology and continuous training.
K & J owners and staff have a reputation for excellence, experience and innovation in the concrete industry having been an architectural concrete specialist for more than three decades. We not only make it our goal to always achieve the highest level of satisfaction from our clients but to also follow up with maintenance programs suited to their specific needs.
K & J has developed into one of the leaders in the concrete polishing industry. This means having the best and most efficient facilities, and processes. To achieve this, K & J Concrete Polishing, Inc. will invest in ways that pay off in competitive advantages for its customers, such as a complete design center, equipment, trained technicians and quality products. The ultimate goal is to meet needs and better the company.